Latest News
Topics
January 24, 2012
1st International Announcement of Opportunity for HAYABUSA Sample Investigation
Japan Aerospace Exploration Agency (JAXA) has been engaged in initial analysis of Itokawa's sample brought back by HAYABUSA. On this occasion we would like to inform you of offering the announcement of opportunity for HAYABUSA Sample Investigation.
Through the peer review, JAXA will provide HAYABUSA sample to researcher who submits research proposal in the framework of this Announce of 0pportunity (herein after referred as "AO"). This AO is planned to be conducted a few times. The 1st International AO issues on January 24th 2012.
Overview
Outline of HAYABUSA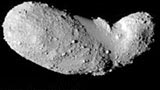 Asteroids are thought to be celestial bodies that preserve information from the time of the Solar System's formation. If we collect a sample from an asteroid and bring it back to Earth to carry out precise research on it, we can gain some
precious clues to understand the origin and evolution of the Solar System.
Bringing back a sample from a celestial body in the Solar System is called "Sample Return." "HAYABUSA" is a probe to verify the practicality of acquired technology developed to archive future full-scale "sample return missions."
"HAYABUSA' was launched aboard the M-V Launch Vehicle on May 9,2003. It was accelerated by a swing-by of the Earth in May 2004 and reached its target Asteroid Itokawa on September 12,2005, after traveling about 2 billion kilometers. in September and October that year, "HAYABUSA" completed the most remote-sensing and measurement of the geometry of Itokawa and made two landings in November to collect a sample from Itakawa.
Through scientific observations performed during "HAYABUSA's" stay on Itokawa various knowledge was obtained including on its gravity and surface condition. The achievements of "HAYABUSA" were featured in the scientific magazine, "Science."
Overview Asteroid Explorer Information about HAYABUSA
| | |
| --- | --- |
| May 9, 2003 | Launched by the M-V-5 Rocket from Kagoshima Space Center. |
| May 27, 2003 | Ion Engine operation started. |
| May 19, 2004 | Orbit transfer using the Electric Propelled Delta-V Earth Gravity Assist |
| July 29, 2005 | Performed the Star Tracker imaging of Itokawa. |
| September 12, 2005 | Arrived at Itokawa. (about 20km away) |
| September 30, 2005 | Arrived at the Home Position (about 7km away). |
| November 12, 2005 | Released the probing robot "Minerva". |
| November 20, 2005 | Performed the first touch down and release of the target marker with 880,000 autographs inside. |
| November 26, 2005 | Performed the second touchdown. |
| December 8, 2005 | Lost communication with the earth due to operation rupture by fuel leakage. |
| January 23, 2006 | Resumed communication and operation. |
| January 18, 2007 | Sample-catcher was actually transferred into the recovery capsule, and latched and sealed. |
| February, 2007 | The ion engines ignited and operated again. |
| April 25, 2007 | The homeward journey with an ion engine drive was started. |
| October 18, 2007 | Finished first phase orbit maneuver toward Earth. |
| End of May, 2008 | Reached the farthest deep space from the Earth. |
| February 4, 2009 | Firing ion engine and starting second phase orbit maneuver to return to Earth. |
| November 4, 2009 | Ion engine anomaly. |
| November 19, 2009 | Resumed cruise by combining two partially working ion engines. |
| March 27, 2010 | Finished second phase orbit maneuver toward Earth. |
| April to June, 2010 | Trajectory Correction Maneuvers (TCMs) |
| June 13, 2010 | Back to the Earth , capsule recovered. |
| July 5, 2010 | Small particles found in the sample container. |
| November 16, 2010 | Particles brought back by Hayabusa identified as from Itokawa |
Mission Profile
Launch Vehicle
M-V-5
Launch Location
Kagoshima Space Center (Uchinoura)
Dimensions
Core 1.0m x 1.1m x 1.6m
6.0m full width at deployment of solar paddle
Weight
510kg